Kikuchigawa river offers great activities and culture.
This is a never-before-seen culture entertainment!
Did you know that Kikuchigawa river, famous for its beautiful canyon and Buzen Kaido (the main street of Yamaga since Edo era), has sustained the rice harvest of Japan for more than 2000 years?
Let's discover the history, culture, and entertainment of the Kikuchigawa Valley.
With a guide from the "traveler," enjoy tea time at the National Important Cultural Properties with your family!

Navigator / Yuji
I can't wait to see what's waiting in Yamaga! I'd also like to check out leisure activities which I can enjoy with my family.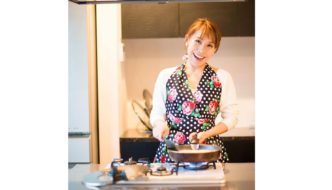 Cooking
Special Recipe
Yet unheard of, Miki-mama is performing a special dish on the stage of Yachiyoza, an old theater built in 1910. The dish will be served to some of the audiences as a present.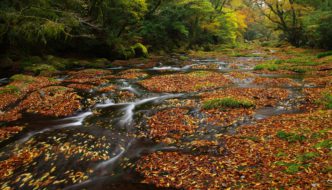 Talk
Shimizu Chihiro, Tsutsumi Kimihiro, Iguchi Keisuke
Talk about Japan Heritage in the Kikuchigawa River Basin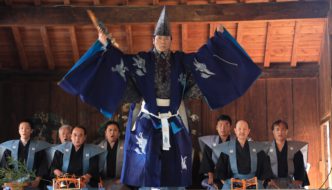 Folk Performance
Kikuchi no Matsubayashi
It is a Shinto ritual praying for world peace that began when Prince Kaneyoshi (1329-1383) first came to Kikuchi.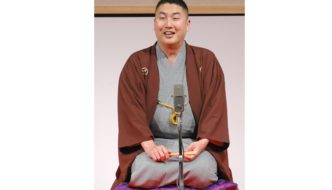 Rakugo
Sanyutei Utayakko
I will perform Rakugo (standup comedy) that moves hearts of both Rakugo beginner and fans.
Japanese Classical Dance with Nagauta Shamisen Music
Hanayagi Genkuro, Kineya Katsujuro, Kineya Gosakichio, Matsunaga Chuzaburo, Mochizuki Masahiro, Katada Kisaburo, Sumida Fukujuro, Fujita Kazuya
In "Four Seasons", they express the festivity of "hanami (cherry blossom viewing)" in spring, "matsuri" (festival) music in summer, insects chirping in autumn, migratory birds in winter. They are going to express various atmosphere including beautiful scenery, people's festivity and serene world by Japanese music and dance.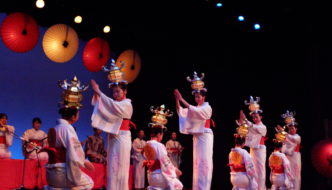 Related Event
Romantic Yamaga Lantern
Thousands of candle lights create a visionary world through the scenic Buzen Kaido. In the evening Yachiyoza theater, there are local performing arts of Yamaga Lantern Dance(Admission is charged).www.yamaga100.com

Navigator
Yuji
He is a TV celebrity and a model. Won Best Father Award and Ikumen of the Year Award both on 2016. He is popular among wide range of ages with his charming character.

Cooking
Miki-mama
A home cooking specialist. She has great popularity among young housewives raising kids. Appears on TV, her blog averages 1.5 million access a day, and has sold more than 2 million recipe books.

Talk
Shimizu Chihiro
Born in 1956, graduated from Doshisha University, faculty of literature. While serving at Tamana city hall, he engaged in the opening of the city library and in the reconstruction of the region, and other projects. Became chief of Furusato sales section before retiring. Secretary-general of Tamana City Commerce and Industry Association. Director of Takasegura (NPO).

Talk
Tsutsumi Kimihiro
Farmer. In 1997, started farming in Kikuchi. Grows rice and other grains. Has won gold award of National Contest on Rice Taste Evaluation twice. Engages in processing agricultural products and exerts himself in training young people. President of Kyushu Rice Flour Promotion Council. Sells rice to consumers directly.

Talk
Iguchi Keisuke
Born in 1953, the eighth generation of "Kiya honten," a maltster founded in Edo era. The president of Shitamachi Soumon Kai, a group that plans and conducts "come come soumon tour." The tour began by the influence of NHK TV drama "Audrey" (2000), where the local people give guide to rediscovering community resources.

Rakugo
Sanyutei Utayakko
Born in Oita. Became an apprentice to Sanyutei Enka (Ⅲ), received the highest rank in 2008. Likes to travel, watch Sumo and Tora-san (famous Japanese film).

Japanese Classical Dance
Hanayagi Genkuro
Born on 1981 in Nara. Graduated from Tokyo University of the Arts in 2003. Is known for his colorful and powerful performance style which fascinates people. Won the Incentive Award of the Minister of Education, Culture, Sports, Science and Technology in 2017. Received the new face award from Association of Dance Critics in 2013.

Shamisen
Kineya Katsujuro
Born on 1978 in Chiba. Graduated from Tokyo University of the Arts. Has shiny sound and skillful technique. Plays in variety of performances such as Kabuki, Japanese classic dance, and other concerts. Has won awards in playing Tsugaru-shamisen as well.

Hayashi
Mochizuki Masahiro
Born on 1975. Began studying under his father Mochiduki Takiemon (Ⅲ) at a young age. After graduating from high school, began to perform in dance and concert stages. He is active in various types of fields such as collaborating with Western music in "Semba Kiyohiko & Karugamos" lives, and playing as an accompaniment music to a play.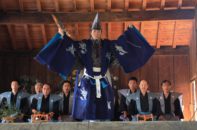 Kikuchi no Matsubayashi - Religious Folk Performance
Onmatsubayashi On-noh Preservation Society
It is said that the first Matsubayashi was performed as a New Year's greetings at Kikuchi castle and since then has continued as a folk performance for approximately 650 years. Every year its performance is dedicated to Kikuchi Shrine at the autumn festival (October 13th).
Date

February 9th 2019 (Sat)

15:00 start

Venue

Yachiyoza

1499 Yamaga, Yamaga City, Kumamoto (phone 0968-44-4004)

Price

Free

Capacity

400 seats

Enquiries

Japan Council of Performers Rights & Performing

Arts Organizations [GEIDANKYO]

TEL:03-5909-3060 FAX:03-5909-3061

Email:takaramono★geidankyo.or.jp

(Please change ★ to @ when you would like to contact us.)
Organizer

Agency for Cultural Affairs, Government of Japan,

Japan Council of Performers Rights & Performing Arts Organizations

Co-Organizer

Kikuchigawa River Basin Japan Heritage Council, Yamaga City Regional Development Corporation

Public Relation Cooperation

KNT Corporate Business Co., Ltd.

Cooperation

Cooperation

Yamaga Hot Spring Tourism Association, Kyodo News, Japan Playwrights Association, Nagauta Association, Japanese Classical Dance Association, Rakugo Association

Staff

[Production Cooperation]Yuko Matsuoka
[Script & Direction]Yuko Matsuoka
[Stage Manager]Kazuyuki Ishibashi
[Stage]YOSHIMOTO BIJYUTSU
[Sound]Sound Kyushu
[Lighting]Yachiyoza
[Art Direction]Kosuke Niwano
[Web]Takehiro Kawase, Ayumi Furudo, Alexei Moroboshi, Tomohiko Manabe
[Photo・Movie]Haruta Taguchi, Kotaro Uchiyamada

Flyer