The city of Takaoka has thrived in the area of commerce and industry, and boasts a rich, unique culture cultivated by the local merchants, passed down from generation to generation.
"Flourishing Folk Culture Under the Rule of the Maeda Family of Kaga" is recognised as Japan Heritage.
We are going to present the Japanese classical dance with nagauta shamisen music by young up-and-coming performers, Kodan and folk performance as well as talks about the history of the city and technique of hammering by two guest speakers.

Navigator / Thane Camus
Thane was hooked on Kyogen when he acted in a contemporary Kyogen with a comedian, Kiyotaka Nanbara, and was taught by Manzo Nomura. He's become very familiar with various traditional cultures since then.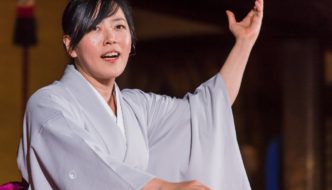 Kodan "Kodan about the history of Takaoka"
Kyokudo Konanryo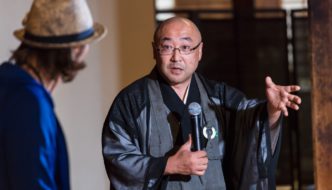 Talk
Yotsuya Doko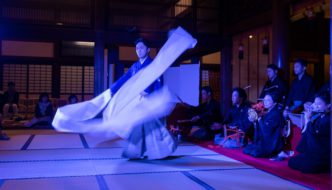 Japanese Classical Dance with Nagauta Shamisen Music "Takaoka Four Seasons"
Hanayagi Genkuro
Imafuji Tatsunosuke, Kineya Katsueiji, Kineya Katsujuro, Kineya Toshiki
Mochizuki Hideyuki, Mochizuki Masahiro, Mochizuki Yoko, Mochizuki Kimiho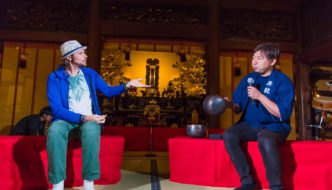 Talk
Shimatani Yoshinori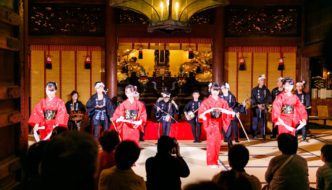 Goinsai Yagaefu
Yagaefu Hozon Kai

Navigator
Thane Camus
Born in New York, U.S.A. He loves Japanese culture in depth and travels around Japan. He got legitimate practice of Kyogen and has been starring in Gendai Kyogen, contemporary Kyogen, from 2009.

Talk
Yotsuya Doko

Talk
Shimatani Yoshinori

Kodan
Kyokudo Konanryo

Japanese Classical Dance
Hanayagi Genkuro
Born on 1981 in Nara. Graduated from Tokyo University of the Arts in 2003. Is known for his colorful and powerful performance style which fascinates people. Won the Incentive Award of the Minister of Education, Culture, Sports, Science and Technology in 2017. Received the new face award from Association of Dance Critics in 2013.

Nagauta Shamisen
Kineya Katsujuro
Born on 1978 in Chiba. Graduated from Tokyo University of the Arts. Has shiny sound and skillful technique. Plays in variety of performances such as Kabuki, Japanese classic dance, and other concerts. Has won awards in playing Tsugaru-shamisen as well.

Nagauta Hayashi
Mochizuki Hideyuki
Date

15 October, 2017
13:00 ~/ 15:30 ~

Venue

Zuiryuji Temple

Price

Admission Free

*Entrance fee for Zuiryuji Temple will be required.

(Adults 500yen・Junior/High school students 200yen・Elementary students 100yen)

Capacity

180 seats

Enquiries

Japan Council of Performers Rights & Performing

Arts Organizations [GEIDANKYO]

TEL:03-5909-3060 FAX:03-5909-3061

Email:takaramono★geidankyo.or.jp

(Please change ★ to @ when you would like to contact us.)
Organizer

Agency for Cultural Affairs, Government of Japan,

Japan Council of Performers Rights & Performing Arts Organizations

Co-Organizer

Toyama Prefecture, Takaoka City, Zuiryuji Temple

Public Relation Cooperation

Cooperation

Special Cooperation=KNT Corporate Business Co., Ltd.

Cooperation=The Kitanippon Shimbun, Kyodo News, Japan Playwrights Association, Nagauta Association, Japanese Classical Dance Association Inc., Yagaefu Hozon Kai

Staff

[Stage・Sound・Lighting]

Yoshihide Okamoto (Kansai Butai)

[Script]

Megumi Takahashi(Koku-Ryodan)

[Art Direction]

Kosuke Niwano (Shinmura Design Office)

[Web]

Takehiro Kawase (POLAAR), Asao Kawaida (musubime), Tomohiko Manabe (neold)

[Photo・Movie direction]

Shogo Omija

[Shoot・Edit]

Kota Yamada, Isao Horikiri

Flyer