Let's have a cultural cruise gazing down Lake Biwa!
Let's have a cultural cruise gazing down Lake Biwa!
Miidera Temple is famous for being the location of movies such as "Rurouni Kensin" and "O-oku." There is the elegant looking "Kangetsu-butai"(moon-viewing stage) halfway up the mountain, a place where you can overlook Lake Biwa and the townscape of Otsu down below. A special performance of the local culture and entertainment of Japan will take place at "Kangetsu-butai." Portraying the moon-viewing stage as a boat, the "Traveller" Thane Camus will guide you to the cruise of Shiga's Japan heritage "Water heritage of praying and living."

How about a special autumn Sunday strolling around the lush greenery precincts of the shrine, observing cultural assets close to national treasure, and listening to live musics?

Navigator / Thane Camus
Thane was hooked on Kyogen when he acted in a contemporary Kyogen with a comedian, Kiyotaka Nanbara, and was taught by Manzo Nomura. He's become very familiar with various traditional cultures since then.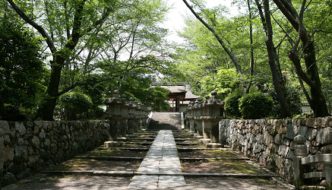 Talk
Mikazuki Taizo, Onuma Yoshiyuki, Hirai Toshiaki
Talk session of Japan Heritage in Shiga," Lake Biwa and its Surrounding Waters: the Water Heritage of Prayers and Lifestyle".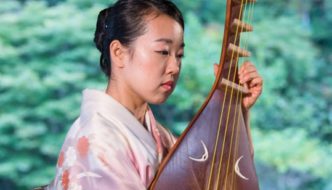 Biwa
Enomoto Momoka
Chikubu Island's Benten, the goddess of arts and wisdom, is famous for carrying Biwa (Japanese lute). However not many people know much about its music. A young award winning artist will perform delicate and true-to-life music.
Japanese Classical Dance with Nagauta Shamisen Music "Four Seasons"
Fujima Naozo
Kineya Katsujuro, Kineya Toshiki
Mochizuki Hideyuki, Sumida Fukujuro, Fujita Kazuya

In "Four Seasons", they express the festivity of "hanami (cherry blossom viewing)" in spring, "matsuri" (festival) music in summer, insects chirping in autumn, migratory birds in winter. Rotating four seasons, it ends with the solemn lion dance celebrating the coming of a new year. They are going to express various atmosphere including beautiful scenery, people's festivity and serene world by Japanese music and dance.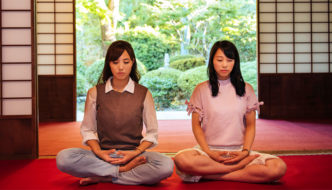 Experience program "zen meditation"
Practicing zen meditation in the temple surrounded by nature.
JPY1,000 per person. Please make a reservation online by 15 October.
(minimum number of participants is 5 persons each practice.) ①10:00~11:00 ②13:00~14:00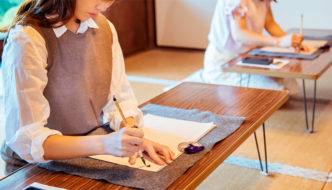 Experience program "Shakyo" and "Shabutsu"
Writing Buddhist scriptures or drawing Buddhist images will help you clear your mind.
JPY1,000 per person. Please make a reservation online by 15 October.
(minimum number of participants is 5 persons each lesson.) ①10:00~11:00 ②13:00~14:00

Navigator
Thane Camus
Born in New York, U.S.A. He loves Japanese culture in depth and travels around Japan. He got legitimate practice of Kyogen and has been starring in Gendai Kyogen, contemporary Kyogen, from 2009.

Talk
Mikazuki Taizo
The governor of Shiga since July 2014 (second term). Launched tourism programs around Shiga such as "Japan Heritage "culture of water" Gurutto-haku". Aims to improve the recognition of Japan Heritage, promote regional development utilizing cultural assets in tourism, and encourage independent and sustainable town development through tourism.

Talk
Onuma Yoshiyuki
Researches on cultural history of Lake Biwa from broad perspective such as archeology, history, fine arts, people, fishery, and environment. Author of "Walking Lake Biwa with Shirasu Masako -Konan version- where god and buddha meets"(Kaiseisha) and others. Received Museum Activity Encouraging Award in 2016.

Talk
Hirai Toshiaki
President of Ameagari Co., Ltd.. Art director of "Soup Stock Tokyo" at Smiles Co., Ltd. since 2001, participated in its branding from the company's founding. Is now applying that experience to regional vitalization, such as branding of region and agricultural products in Takashima city.

Biwa
Enomoto Momoka
Tsuruta school Biwa player. While majoring Piano in University, fell in love with Biwa and determined to become a professional. Received Japanese Traditional Culture Promotion Foundation Award in 2011, Ministry of Education Award in 2013 and many others.

Japanese Classical Dance 
Fujima Naozo
Born in 1992 in Tokyo. Began studying Japanese dance at the age of 6, already has 20 years of history as a performer! Has a strong and eloquent style. Has received many awards and is a promising young dancer. Also, he has received 4th in the lightweight class of World Karate Championship.

Nagauta Shamisen  
Kineya Katsujuro
Born on 1978 in Chiba. Graduated from Tokyo University of the Arts. Has shiny sound and skillful technique. Plays in variety of performances such as Kabuki, Japanese classic dance, and other concerts. Has won awards in playing Tsugaru-shamisen as well.

Nagauta Hayashi 
Mochizuki Hideyuki
Born in 1983 in Tokyo. Learned Ohayashi (musical accompaniment) since early age, has 30 years of history as a performer! Appears in Kabuki performances at Nakamuraza and many other dance performances. Recently has produced "Ohayashi project," a project aiming for the coexistence of Eastern and Western music.
Date

21 October, 2018
12:00~13:00/14:30~15:30

Venue

Kangetsu Butai (Outdoor moon viewing stage) in Miidera

*Venue in case of rain: The hall in the administration office of Miidera

246 Onjojicho, Otsu, Shiga

10 mins walk from Keihan Line Miidera station or 10 mins drive from Otsu IC/Toll parking

Price

Admission Free (Free admission to the temple with advance reservation)

Capacity

130 seats
*Please make reservation from the following website.
https://otsu.peatix.com/


Enquiries

Japan Council of Performers Rights & Performing

Arts Organizations [GEIDANKYO]

TEL:03-5909-3060 FAX:03-5909-3061

Email:takaramono★geidankyo.or.jp

(Please change ★ to @ when you would like to contact us.)

 
Organizer

Agency for Cultural Affairs, Government of Japan,

Japan Council of Performers Rights & Performing Arts Organizations

Co-Organizer

Japan Heritage "Culture of Water" Tourism

Public Relation Cooperation

KNT Corporate Business Co., Ltd.

Cooperation

Miidera, Kyodo News, Japan Playwrights Association, Nagauta Association, Japanese Classical Dance Association Inc., Japan Biwa Association, Ameagaru Co., Ltd.

Support =Shiga Prefecture, Shiga Prefectural board of education

Staff

[Stage・Sound・Lighting]

Kansaibutai Co.,Ltd., Nankai Stage Co., Ltd.
[Production Coopertation]

Kankarasha Co., Ltd.

[Script]

Shintaro Murakami(Yuguresya Yowaotoko Unit)

[Art Direction]

Kosuke Niwano (Shinmura Design Office)

[Web]

Takehiro Kawase (POLAAR), Ayumi Furudo(mikazuki), Alexei Moroboshi(Mana Design),Tomohiko Manabe (neold)

[Photo・Movie]

Takahiro Tsuboi/DIRECTORY Inc.

Flyer