私が仏像と向き合っていくときもそうですし。時間の流れとともに、いろんな伝統芸能をいろんな人たちが受け継いでいくなかで、またいろんな広がりが見せていくので、それを実際に見ている私たちは、自分なりの物語を紡いでいけるんじゃないかと。その楽しみは、自分も味わいたいですし、みなさんにも味わってもらいたいです。
答えが一つじゃないと思うともっともっと楽しめると思います。(はな)
今回は地域代表として「吉和太鼓踊保存会」の方たちが来てくださっていた。メンバーはお年寄りから小さい子供からと幅広く、伝統芸能を将来の子供たちに継承させることにも力を入れているようだった。(大谷大輝)
吉和太鼓おどりは、足利尊氏の戦勝祝いで踊ったことが起源といわれ、650年もの歴史を刻む伝統行事です。独特な並びは船を表しており、「やぁ、はぁ」というかけ声は海の激しく荒々しい様を感じることができました。(緒方愛羽)
Onomich is well known both as the location for films or anime and the town of cats.
The Onomichi Channel flows through the center of the city and has always acted as a route for culture, industry and people. Since the Middle Ages, this water way has been instrumental in making Onomichi the most important port in the Seto Inland Sea. And Jodoji, which is recognised as the National Tresure, played a role as the central core in terms of the development of Onomichi.
Today, let's travel with Hana who has just taken up the post as "National Treasure Support Ambassador" and explore the history and culture of Onomichi!

Navigator / Hana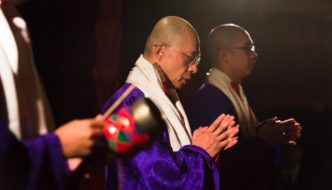 reading of the sutras
Kobayashi Chozen, Kobayashi Chogen, Kobayashi Chojun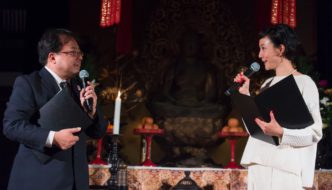 Talk
Nishii Toru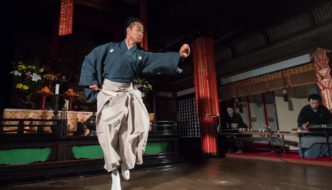 Japanese Classical Dance with Nagauta Shamisen "Akiikkei"
Izumi Hideki, Tanaka Naoichi, Nagaoka Sonomisaki, Yamashita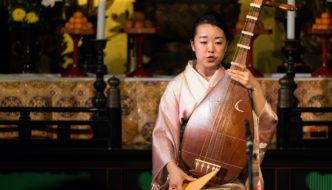 Biwa (Satsuma Biwa) "Nasu no Yoichi" and "Waka related to Jodoji"
Enomoto Momoka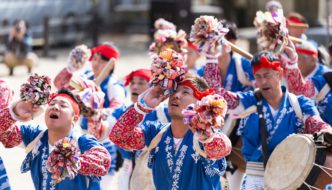 Folk performance "Yoshiwa Taiko Odori"
Yoshiwa Taiko Odori Hozonkai

Navigator
Hana
A fashion model. Acts widely as a commentator, narrator, and writer. After graduating from International School, pursued history of art at Sophia University. Fluent in English and French. Likes to make sweets and to visit Buddha statues. Became a national treasure supporting ambassador in 2017.

Talk
Nishii Toru

Japanese Classical Dance
Izumi Hideki

Shamisen
Tanaka Naoichi

Biwa
Enomoto Momoka
Date

4 November, 2017 (Sat.)
11:30 ~/ 14:00 ~

Venue

Jodoji

20-28 Higashikubo-cho, Onomichi, Hiroshima 722-0043

Price

Admission Free

Capacity

120 seats

Enquiries

Japan Council of Performers Rights & Performing

Arts Organizations [GEIDANKYO]

TEL:03-5909-3060 FAX:03-5909-3061

Email:takaramono★geidankyo.or.jp

(Please change ★ to @ when you would like to contact us.)
Organizer

Agency for Cultural Affairs, Government of Japan,

Japan Council of Performers Rights & PerformingArts Organizations

Co-Organizer

Onomichi city, Jodoji

Public Relation Cooperation

Cooperation

Special cooperation=KNT Corporate Business Co., Ltd.

Cooperation=Kyodo News, Nihon Sankyoku Kyokai, Nihon Biwagaku Kyokai, Japanese Classical Dance Association Inc., Yoshiwa Taiko Odori Hozonkai

Staff

[Stage・Sound・Lighting]

Yoshihide Okamoto (Kansai Butai)

[Script]

Junko Toyonaga(Gekidan Junkochan)

[Art Direction]

Kosuke Niwano (Shinmura Design Office)

[Web]

Takehiro Kawase (POLAAR), Asao Kawaida (musubime), Tomohiko Manabe (neold)

[Photo・Movie direction]

Shogo Omija

[Shoot・Edit]

Kota Yamada, Isao Horikiri

Flyer