外国人の方を対象に、大山詣りと伝統芸能を楽しめる、英語通訳付きのツアーを開催します。
Date: 19th December  
1 Day Trip Schedule
■Your preference regarding hiking
8:30 Meet at Isehara Station, North Exit
8:45 Isehara to Oyama Cable (9:12)Take bus with guide to cable car station bus stop(Self pay)
Half Day Hike to Mt. Oyama (Koma Sando approach and shopping street Onna zaka hiking trail Oyama Temple Lower shrine of Oyama Afuri Shrine Niju daki waterfall Miharashi dai view point)
■ For all of the participants
10:30 Meet at Isehara Station, North Exit
10:45 Isehara to Oyama Cable (11:12)Take bus with guide to cable car station bus stop (Self pay)
11:40 Oyama cable to Oyama Afuri Shrine Lower Shrine
12:00 Oyama Afuri Shrine
Lunch in the assembly hall, explanation by shrine priest, division into pilgrimage groups(Vegan lunch using local Isehara produce and tofu)
12:45 Formal blessing inside the shrine, sacred dance by local elementary students
13:40 Performance of Japanese music (shamisen)
14:20 Descend from shrine via cable car to Oyama Temple
14:30 Arrive Oyama Temple
Tour Oyama Temple(See statue of Buddhist deity Fudo o Myoo.)
15:20 Descent via cable car to the lower station
15:55 Arrive at Oyama Noh stage Tour of Noh stage and Noh theater experience(Backstage tour and explanation of Noh masks, etc. Participants will put on tabi socks and trying "suri ashi" way of walking.)
17:30 End of tour
Tour Overview
Mt. Oyama, a popular hiking destination in Kanagawa Prefecture, has been regarded as sacred since ancient times. During the Edo period, Oyama became one of the most popular pilgrimage destinations in Japan, with people organizing into groups by neighborhood or profession and making the multi-day journey on foot together. On this fully guided tour, organized by Nobody Knows project planned by Geidankyo, the association of professional performers in traditional arts, you can experience the mountain in much the same way pilgrims did, while also enjoying a special concert of traditional Japanese music.
Cost
The fee to participate in this all-day tour is 10,000 yen which includes all guide services, lunch, the concert, and a donation to the shrine. It does not include transportation between your home and Isehara station, or the public bus we will take to and the Cable Car bus stop.
To sign up for this tour, please complete this form:
*Online booking was closed
https://forms.gle/XKBoZg3v8FkRg2fh6
More about Mt. Oyama
Because the summit of Mt. Oyama is often shrouded in rain clouds it has long been believed to bring the rain that ensures good crops. In fact, the peak has an alternate name, "Ame-furi-yama," meaning "Rainfall Mountain." Pilgrims travelling to Mt. Oyama often carried large wooden votive swords that they would donate to the shrine. Scenes of people travelling with wooden swords are often depicted in the colorful woodblock prints of the day, attesting to the popularity of the Oyama pilgrimage. At a time when the population of Edo (now Tokyo) was about one million people, every summer some 200,000 people – one-fifth would make the pilgrimage to Oyama.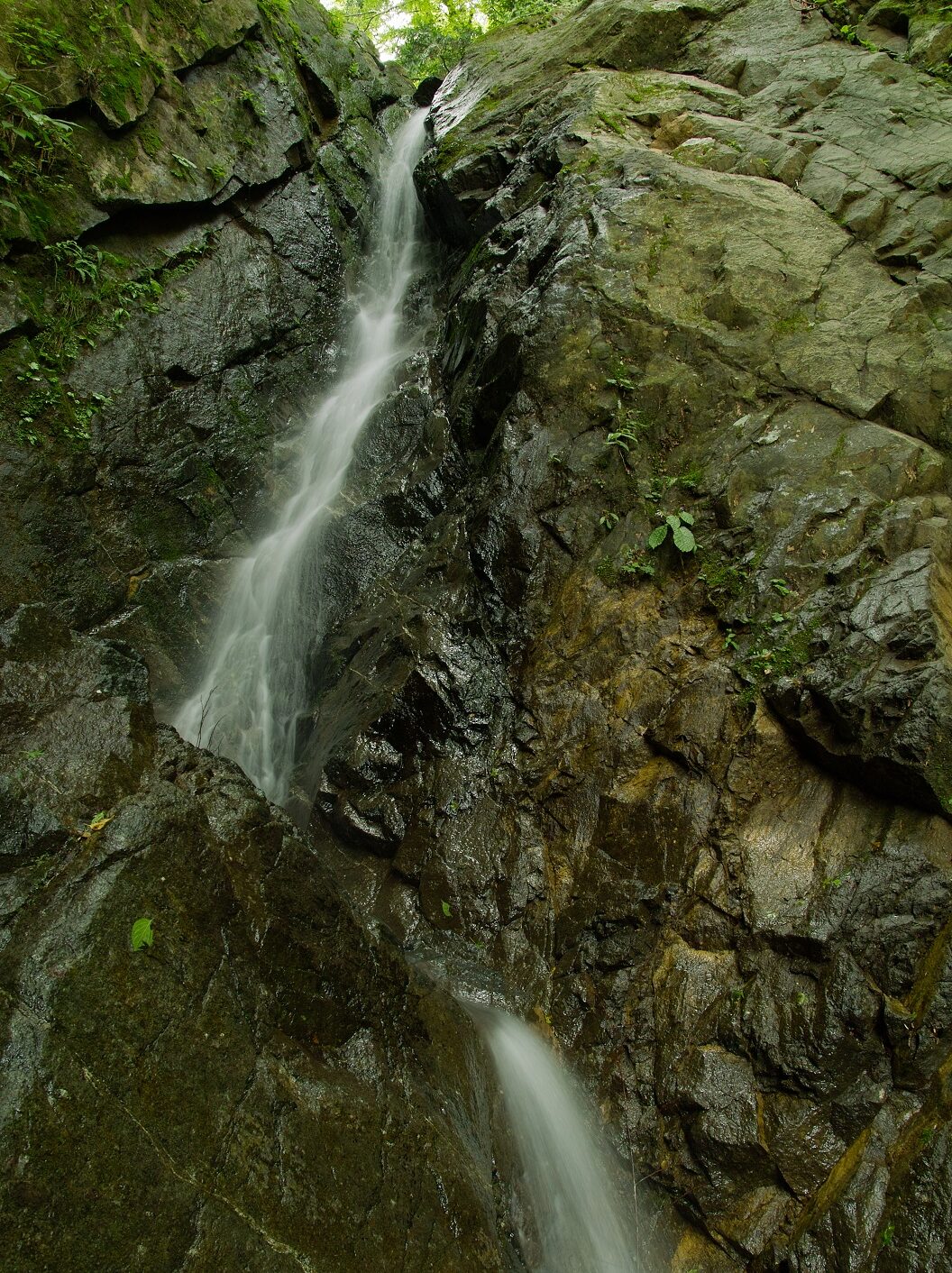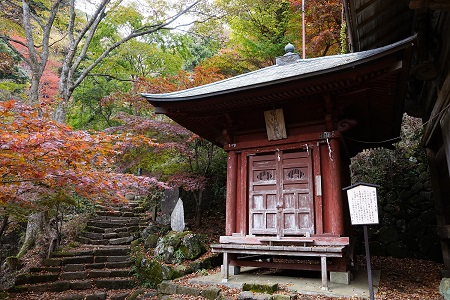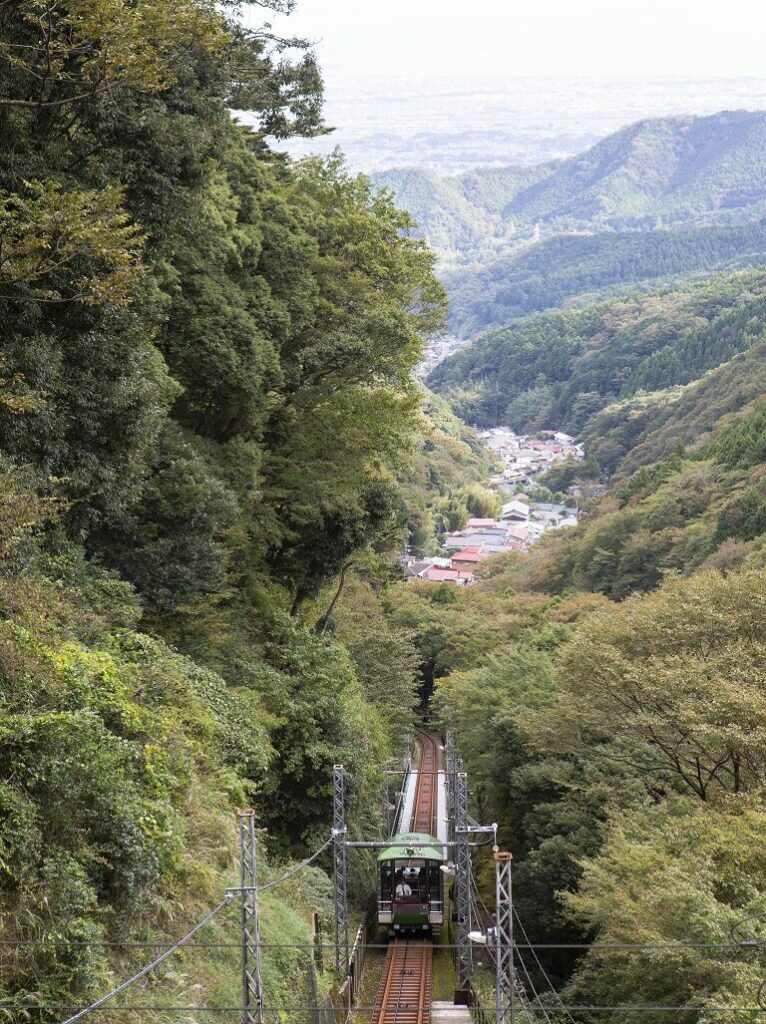 Traditional Performance
On this special tour, we will climb halfway up the mountain (either on foot or using the cable car) to the main building of the Oyama Afuri Shrine. There we will be invited to enter the inner sanctuary of for a Shinto ceremony during which we will witness a sacred dance presented for the pleasure of the gods. This dance was transmitted to Oyama from the Kasuga Shrine in Nara, and will be performed by local children who, in learning the dance, are playing an important role in the preservation of this tradition. We will also be treated to a performance of shamisen music, a favorite of pilgrims to Mt. Oyama during the Edo period. After this mini-concert, will descend from the mountain to a Noh stage in the foothills where we learn about this ancient form of theater, going on stage in tabi socks to try for ourselves the special way in which performers move about the stage (suriashi).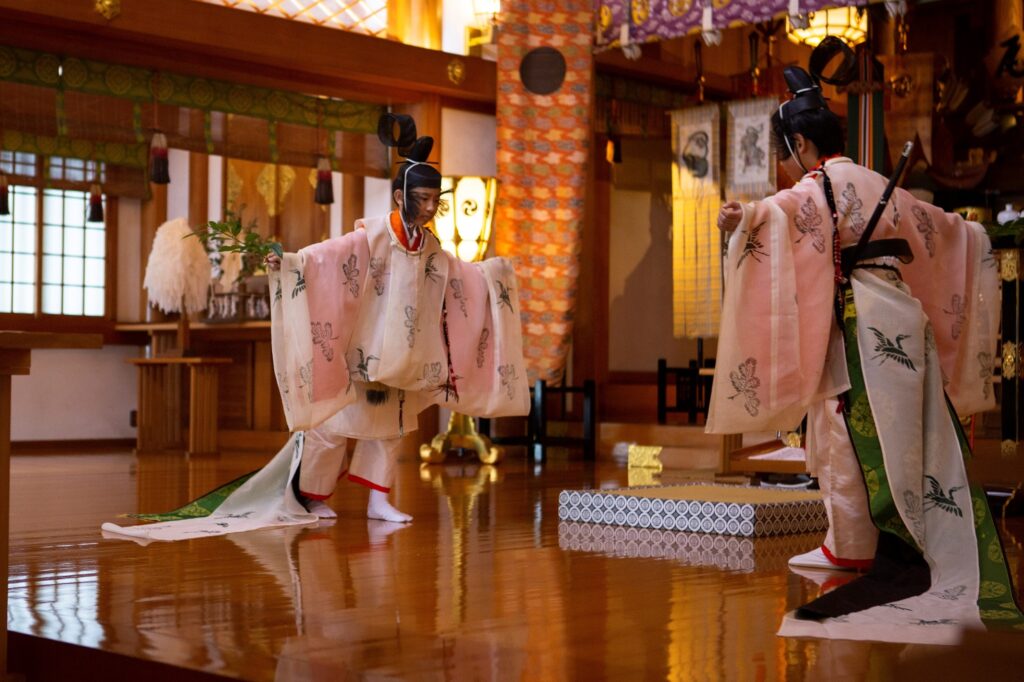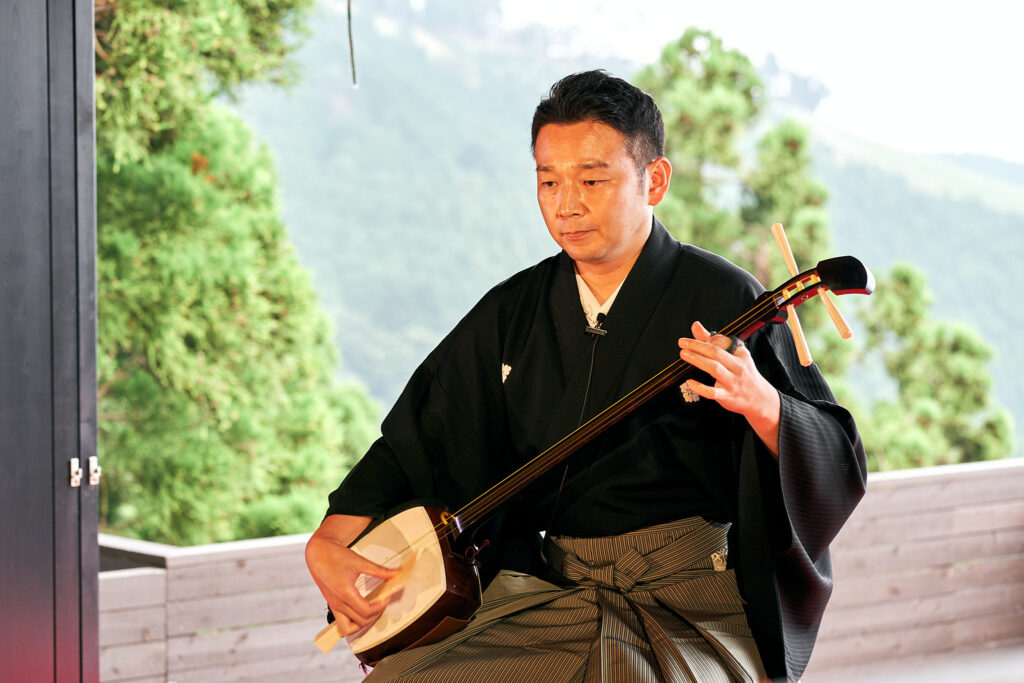 Notes: Language, Level of Activity and Appropriate Wear
This tour is fully guided and will be conducted in Japanese with English interpretation available. It involves a fairly high level of activity, including, at a minimum, climbing many flights of stairs, but participants will have a choice about how much hiking they wish to do. (There is an option to hike for about an hour or use the cable car for that part of the journey, but either way, you should expect quite a bit of exercise.) Comfortable clothing and sturdy shoes for walking is recommended. High heels and sandals are not suitable. A vegan lunch of rice, tofu and local vegetables is included.
For a 4-min video in English introducing Mt. Oyama and the Oyama pilgrimage, click here: