今回、初めて生で長唄を聞いたり、講談を見て、日本の伝統文化の凄さを感じた。素晴らしい時間だった。しかし、小浜公演の多くは年配の人で、十代は全く見かけなかった。やはり、まだまだ認知が低いことや、興味感心がないことが分かった。だからこそ、私は、この新聞を伝じてたくさんの人が少しでも気になってくれると嬉しい。私は、地元にある伝統芸能について、改めてよく調べてみようと思う。(清水良香)
公演の最後には、長唄、舞踊と雲浜大太鼓のコラボレーション。それぞれで見るときとは違い、それぞれの良さが更に引き立つものだった。大きく響く音で、聞いていて胸が踊るようだった。今回の取材で、日本文化の素晴らしさがわかった。しかし、若い世代の関心が薄くなっている今、伝統文化を継承していくための手段を考えていくべきである。(小浜市ジュニアリーダーズクラブ)
The province of Wakasa was situated along the Sea of Japan's coastline in what is now Fukui Prefecture. The coastal hub of Wakasa also connected the sea trade from China and Korea to the inland trade routes. Local ports and castle towns sprang up and flourished along this route.
"A Cultural Heritage Linking the Sea to the Ancient Capital" is recognised as Japan Heritage.
We are going to present the Japanese classical dance with nagauta shamisen music by young up-and-coming performers, Kodan and folk performance as well as talks about Japan Heritage!

Navigator / Thane Camus
Thane was hooked on Kyogen when he acted in a contemporary Kyogen with a comedian, Kiyotaka Nanbara, and was taught by Manzo Nomura. He's become very familiar with various traditional cultures since then.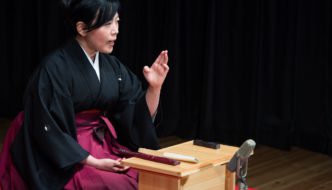 Kodan "Kodan about the history of Wakasa"
Kyokudo Konanryo
A piece about Saba Kaido (the old mackerel highway) written specially for this event. It is the first performance in the world! Enjoy the powerful storytelling of Kodan.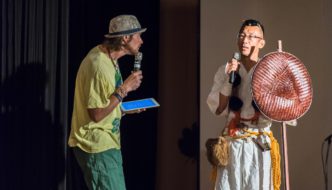 Talk
Shitanaka Takahiro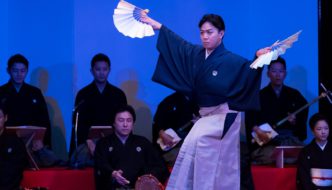 Japanese Classical Dance with Nagauta Shamisen Music "Wakasa Four Seasons"
Hanayagi Genkuro, Imafuji Ryunosuke, Kineya Katsueiji, Kineya Katsujuro, Kineya Toshiki, Mochizuki Hideyuki, Mochizuki Masaharu, Mochizuki Yoko, Mochizuki Kimiho
The four seasons of Wakasa (ancient name for Fukui prefecture) will be expressed with each motifs of Nagauta (Japanese classicalmusic): moon for spring, sea for summer, festival for autumn, and snow for winter. With Shamisen and Hayashi (musical band) performance as the highlight, you can enjoy both dance and music at the same time.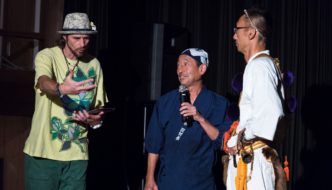 Talk
Tamura Hitoshi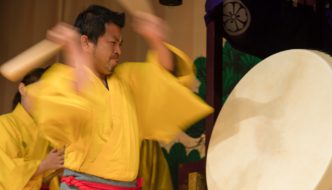 Folk performance "Bofuri Odaiko"
Unpin Odaiko Hozon Kai
Acrobatic bo-furi (stick waving) drum matches with the dynamic sound of Odaiko (big drum). They are dedicated in many festivals around Wakasa; it is said to purify evil spirits and god of plagues by hitting the sticks at every street corners.

Navigator
Thane Camus
Born in New York, U.S.A. He loves Japanese culture in depth and travels around Japan. He got legitimate practice of Kyogen and has been starring in Gendai Kyogen, contemporary Kyogen, from 2009.

Talk
Tamura Hitoshi
Secretary-general of Miketsukuni WakasaClub. CEO of Tamuracho Co., Ltd., a renowned seafood processor. Promotes in town development making use of its history and engages in the public relations of history and culture of Miketsukuni Wakasa Obama's seafood and Saba Kaido.

Talk
Shitanaka Takahiro
A policy specialist of cultural heritage in Culture section of Obama city. Acts inside and outside region as the group leader of Utilitaion of Japan Heritage. As a monk, researches and passes on the culture of Obama's shrines. A member of Miketsukuni Wakasa Club.

Kodan
Kyokudo Konanryo
Born in Osaka. Has a unique career of working as an office worker, then an actress, before becoming a storyteller. In 2015, received the Rookie of the Year Awardof National Arts Festival. In 2016, received the Rookie of the Year Award of culture of Yao city. Last year, succeeded the professional name "Konanryo Ⅴ".

Japanese Classical Dance
Hanayagi Genkuro
Born on 1981 in Nara. Graduated from Tokyo University of the Arts in 2003. Is known for his colorful and powerful performance style which fascinates people. Won the Incentive Award of the Minister of Education, Culture, Sports, Science and Technology in 2017. Received the new face award from Association of Dance Critics in 2013.

Nagauta Shamisen
Kineya Katsujuro
Born on 1978 in Chiba. Graduated from Tokyo University of the Arts. Has shiny sound and skillful technique. Plays in variety of performances such as Kabuki, Japanese classic dance, and other concerts. Has won awards in playing Tsugaru-shamisen as well.

Nagauta Hayashi
Mochizuki Hideyuki
Born in 1983 in Tokyo. Learned Ohayashi (musical accompaniment) since early age, has 30 years of history as a performer! Appears in Kabuki performances at Nakamuraza and many other dance performances. Recently has produced "Ohayashi project," a project aiming for the coexistence of Eastern and Western music.
Date

14 October, 2017

11:30~/14:00~

Venue

Obamashi-Machinoeki Asahi-za

Price

Admission Free

Capacity

180 seats

Enquiries

Japan Council of Performers Rights & Performing

Arts Organizations [GEIDANKYO]

TEL:03-5909-3060 FAX:03-5909-3061

Email:takaramono★geidankyo.or.jp

(Please change ★ to @ when you would like to contact us.)
Organizer

Agency for Cultural Affairs, Government of Japan,

Japan Council of Performers Rights & Performing Arts Organizations

Co-Organizer

Obama city

Public Relation Cooperation

KNT Corporate Business Co., Ltd.

Cooperation

Cooperation=Unpin Odaiko Hozon Kai, Kyodo News, Japan Playwrights Association, Nagauta Association, Japanese Classical Dance Association Inc.,

Staff

[Stage・Sound・Lighting]

Yoshihide Okamoto (Kansai Butai)

[Script]

Megumi Takahashi(Koku-Ryodan)

[Art Direction]

Kosuke Niwano (Shinmura Design Office)

[Web]

Takehiro Kawase (POLAAR), Asao Kawaida (musubime), Tomohiko Manabe (neold)

[Photo・Movie direction]

Shogo Omija

[Shoot・Edit]

Kota Yamada, Isao Horikiri

Flyer