Fashion show which trace the history of Kurashiki
Fashion show which trace the history of Kurashiki
Kurashiki is famous for its textile and jeans where East meets West. Its history began from a single raw cotton flower. Let's discover the history of Kurashiki through talks, music, and fashion show with the "Navigator" Yuji! We hope to discover and celebrate many "takaramono (treasure)" of Kurashiki and wish it will be the driving force towards the future. Local students will also walk the runway. Please come to support them!

Navigator / Yuji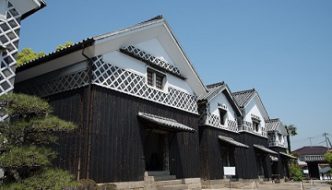 Talk
Mizutama Takenori, Fujiwara Noriyoshi, Kawakami Takuto
Talk session about Japan Heritage in Kurashiki, history, industry, and tourism.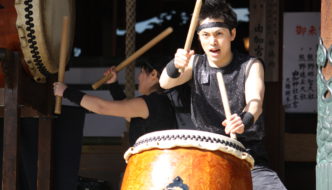 Folk performances
Kojimayugadaiko
Drums are popular among children. Let's find the fascination of drums through local history.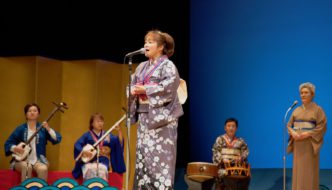 Folk performances
Shimotsuibushi
Folk songs representing Okayama prefecture. They spread from Shimotsui, a port of call for Kitamae-Bune (cargo ships that sailed the Japan Sea during the Edo period), to all over Japan.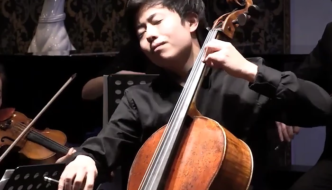 Cello
Morita Keisuke
Has received many awards inside and outside Japan, a promising young artist. Plays solo, giving regards for people who have suffered from the heavy rain disaster in 2018. The western music echoes in the eastern atmosphere.
Japanese Classical Dance with Nagauta Shamisen Music "Four Seasons"
Fujima Naozo
Kineya Katsujuro, Kineya Toshiki
Mochizuki Hideyuki, Sumida Fukujuro, Fujita Kazuya

In "Four Seasons", they express the festivity of "hanami (cherry blossom viewing)" in spring, "matsuri" (festival) music in summer, insects chirping in autumn, migratory birds in winter. Rotating four seasons, it ends with the solemn lion dance celebrating the coming of a new year. They are going to express various atmosphere including beautiful scenery, people's festivity and serene world by Japanese music and dance.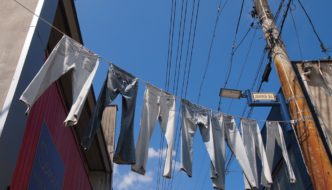 Fashion show
About 30 people from Kurashiki city and models

Fashion show will take place using the corridor of Japanese classical parlor as a runway. Let's experience the story of textile industry, which prospered mainly in Kojima during and after reclamation in the Edo era and lead to the development of Kurashiki city.

Navigator
Yuji
He is a TV celebrity and a model. Won Best Father Award and Ikumen of the Year Award both on 2016. He is popular among wide range of ages with his charming character.

Talk
Mizutama Takenori
Born in 1968, Okayama. Joined the made-in-Japan jeans pioneer company Big John Co., in 1990. Worked in many departments, and is now an executive officer. Delivers the tradition and innovation of jeans from Kojima, the holy ground. Is a denim freak both in public and private.

Talk
Fujiwara Noriyoshi
Joined Mabi Town Hall in 1998. Assigned to the Cultural Properties Protection section of Education Board of Kurashiki city in 2005. Engaged in the restoration of Kurashiki scenic area, also in charge of protection and utilization of cultural assets. A guide of Kurashiki in the TV program "Bura-Tamori."

Talk
Kawakami Takuto
Born in 2008, was exposed to English since 6 months old. Is now a volunteer guide in Korakuen and Kurashiki scenic area for overseas travelers.

Cello
Morita Keisuke
Started playing cello since the age of 2, played soccer in elementary and middle school. Concentrated in playing soccer once, but decided to become a cellist. Won the Japan music competition as a high school student, performs inside and outside Japan. Is now studying in Berlin.

Japanese Classical Dance
Fujima Naozo
Born in 1992 in Tokyo. Began studying Japanese dance at the age of 6, already has 20 years of history as a performer! Has a strong and eloquent style. Has received many awards and is a promising young dancer. Also, he has received 4th in the lightweight class of World Karate Championship.

Nagauta Shamisen
Kineya Katsujuro
Born on 1978 in Chiba. Graduated from Tokyo University of the Arts. Has shiny sound and skillful technique. Plays in variety of performances such as Kabuki, Japanese classic dance, and other concerts. Has won awards in playing Tsugaru-shamisen as well.

Nagauta Hayashi
Mochizuki Hideyuki
Born in 1983 in Tokyo. Learned Ohayashi (musical accompaniment) since early age, has 30 years of history as a performer! Appears in Kabuki performances at Nakamuraza and many other dance performances. Recently has produced "Ohayashi project," a project aiming for the coexistence of Eastern and Western music.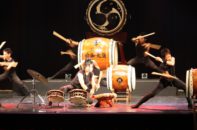 Folk performances "Kojimayugadaiko"
Kojimayugadaiko
Founded in 1988 by several local volunteers to rejuvenate Kojimayuga district in Kurashiki city. Restarted its activity 2 years later as "Kojimayugadaiko." Performs both inside and outside the prefecture, and the junior team has began its activity since 2005.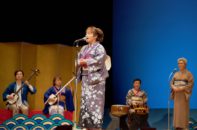 Folk performances "Shimotsuibushi"
Shimotsuibushi
Folk songs which represents Okayama prefecture which had been passed down from Shimotsui, a port town. Folk songs had been inherited by the captains of the Kitamae-Bune. Nationwide competition is held every year to determine the no.1 singer.
Date

20 October, 2018 (Sat.) 
11:30~12:45/14:00~15:15

Venue

Former Nozaki Residence Annex, Taikado
1-8-34 Kojimaajino, Kurashiki, Okayama
*25 mins walk from JR Kojima station, 10 mins from Kojima IC/Free parking


Price

Admission Free

Capacity

150 seats

Reservation
WEB➡Please make reservation from the following website.
https://kurashiki.peatix.com


 

Enquiries

Japan Council of Performers Rights & Performing

Arts Organizations [GEIDANKYO]

TEL:03-5909-3060 FAX:03-5909-3061

Email:takaramono★geidankyo.or.jp

(Please change ★ to @ when you would like to contact us.)
Organizer

Agency for Cultural Affairs, Government of Japan,

Japan Council of Performers Rights & Performing

Arts Organizations

Co-Organizer

Kurashiki City,

Kurashiki City Japan Heritage Promotion Consortium

Public Relation Cooperation

KNT Corporate Business Co., Ltd.

Cooperation

Kyodo News, Japan Playwrights Association, Nagauta Association, Japan Federation of Musicians, Japanese Classical Dance Association Inc., Naikai Salt Industries, Former Nozaki Residence, The Society for promotion of Shimotsuibushi, Kojimayugadaiko, The Kojima Chamber of Commerce and Industry, Kurashiki Jeans Street Promotion Consortium, Kurashiki Fashion Center Co., Ltd., Kojima Okamisan Kai, Japan Modeling Agencies Association, Wellstone Co., Ltd.

Staff

[Stage・Sound・Lighting]

Kankarasha Co., Ltd.

[Script]

Rikizo Takayama(Sekai Gekidan)

[Art Direction]

Kosuke Niwano (Shinmura Design Office)

[Web]

Takehiro Kawase (POLAAR), Ayumi Furudo(mikazuki), Alexei Moroboshi(Mana Design),Tomohiko Manabe (neold)

[Photo・Movie]

Takahiro Tsuboi/DIRECTORY Inc.

Flyer