puppet maker, Tenguhisa and the performing arts of Awa.
The Yoshino River, which flows from east to west through Tokushima, is known as a "ramp river" that floods every year, but in return, it has continued to carry fertile mountain soil to the land of Awa. The soil cultivated high-quality Awa Ai (indigo) and swept the national market during the Edo period. Tokushima will eventually develop into a "gei-dokoro" (arts place) where Ningyo Joruri (Japanese puppet theater) and Awa Odori (dance) are flourishing, against the backdrop of the economic power of Awa Ai and exchanges with various parts of the country. The culture nurtured with the indigo houses that remain in various places is certified as a Japan Heritage, Awa - The Birthplace of "Japan Blue".

Ningyo Joruri, which is said to have been born in Awaji at the end of the 16th century, was protected and encouraged by the Awa lord who added Awaji in 1615, and spread to Tokushima. In the Yoshino River basin, with the backing of the Tokushima feudal lord and indigo merchants, the Awaji Puppet Theater frequently performs on the temporary stage of the hut, and soon spreads to the mountainous areas in the south of the prefecture. There, the villagers paid for each other to build a stage in the shrine precincts, create a puppet theater, and dedicate Ningyo Joruri to the guardian deity at the spring and autumn festivals. It is said that there were more than 70 puppet theaters in Tokushima prefecture during the Meiji era, and there are still many enthusiast groups, and they are regularly performed at rural stages and Awa Jurobe Yoshiki (Puppet Theater and Museum).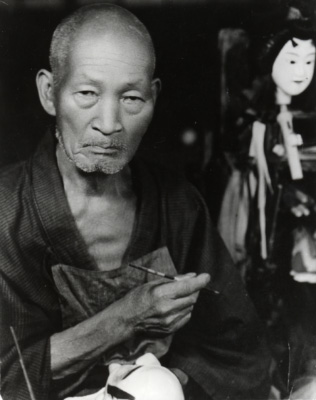 Founder・Tenguhisa
The most important puppet maker for Ningyo Joruri is the first Tenguhiisa (Yoshiokaya Hisakichi). In the 20s of the Meiji era (1887-1896), he devised a head that shines on the stage, such as enlarging the head of a puppet and adopting glass eyes, and it is said that he worked on more than 1,000 heads throughout his 86 years of death in 1943. He also worked on the heads used in Bunraku and Awa Ningyo Joruri, the heads of Hakomawashi (performing on the roadside), and the masks for the request of Hananoya Hanayakko.
This time, from "Tenguya Hisakichi" recorded in the writer Uno Chiyo's "Uno Chiyo Collection", Uno met a doll of Tenguhisa and made a movie based on the story she wrote by visiting his studio. Maro Akaji, an actor and dancer who presides over Dairakudakan, plays Tenguhisa, and captures the life as a craftsman and the rich performing arts unique to Tokushima with using the puppets and masks produced by Tenguhisa.
Tenguhisa Museum in Tokushima city
Tenguhisa, a puppet maker who was active during the three eras of the Meiji, Taisho, and Showa eras. The Tenguhisa Museum reproduces the state of the workshop around 1935, when the first and third generation Tenguhisa worked side by side. In 2002, the puppet making tools and products used by the 3rd generation of Tenguhisa were designated as important tangible folk cultural properties of the country, and these materials are also exhibited in the museum.
https://www.awanavi.jp/spot/20315.html