NOBODY KNOWS Online Tour
ISEHARA
Tour video distribution
Lucas B.B.
(PAPERSKY)

×Miyake Gaku

(Alpine Photographer)


An editor and an alpine photographer talk
about the Mt. Oyama Pilgrimage and traditional performing arts.

at Isehara, Kanagawa Pref
Date

3rd November(Tue)2020 to 31st January(Sun)2021

*Please use English subtitles

Fee

Free

Questionnaire

3rd November 2020 to 31th January 2021
-Click here for the questionnaireー

From those who watched the video and answered the questionnaire, thirty people will be drawn at random each month to win prizes of Mt. Oyama's "Charabuki (local food)" and "Brochures for Mt. Oyama pilgrimage".
Free videos, the world of the Japanese heritage "Destination for the Faith and Leisure of Edo's Commoners: the Mt. Oyama Pilgrimage with a large wooden sword", will be uploaded which are depicted from a couple of perspectives, worshiping and performing arts.
Enjoy nature, history and traditional performing art that have been passed down through the ages.
Faith (walking in the mountains)
Mt. Oyama is also known as "the rainy mountain" and has long been a place for praying for rain and huge harvest.
During the Edo period, it became very popular destination for a short trip since it is closer than Mt. Fuji, and it was said that one- fifth of the population of Edo visited every year.
Ukiyoe shows stylish Edo's citizens worship with a wooden sword by funding from a local community and a group of professionals to form a "Ko (a group of pilgrimage)".
They purified themselves in Mt. Oyama's waterfall, prayed in the accommodation at the foot of the mountain and finally headed to the summit.
This time, Mr. Lucas, an American creative director and editor-in chief of Perpersky Magazine, Mr. Gaku Miyake, an alpine photographer, and Mr. Isao Shimura, a guide, ascended the mountain while talking about history and nature.
Traditional Performing Arts (invitation to the Edo period)
A special performance of Japanese classical dance, "Nihon-buyo" and shamisen associated with the Mt. Oyama's pilgrimage at the teahouse "Sekison" with splendor of a view in the precincts of the Ohyama Afuri Shrine.
How did the appearance of the stylish Edo citizen, the samurai and elderly women climbing up Mt. Oyama look like?
Playing multiple roles which is unique to Japanese classical dance is staged and a flavor of the four seasons is unfolded on the emotional tone of the shamisen, which was loved by the citizens during the Edo period.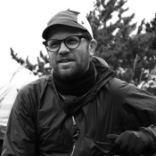 Lucas B.B.(PAPERSKY)
Born in Baltimore, USA in 1971 and raised in San Francisco. Lucas has been creating widescreen, inspirational and organic media since the age of 12. He came to Japan in 1993 the day after graduating from the University of California. He was quick to find freelance work writing culture and lifestyle pieces for TIME magazine, WIRED and the JAPAN TIMES. In 1996 he bought a straw hat; rolled up his A.P.C. shirt sleeves and published TOKION, the fabled magazine that put Japanese youth culture on the global map. In 2002 Lucas began to wear cycle caps, grew a beard and created PAPERSKY. Via Papersky's unique ethno-travel viewpoint he creates content that seamlessly blends and bends time, culture and nature into a fresh new flavor for the future. When Lucas isn't walking 30km a day along Old Japanese paths or riding his bicycle in rural Japan, he's probably relaxing in his garden and drinking mint tea.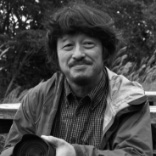 Miyake Gaku(Alpine Photographer)
Born in Tokyo in 1964. Brought up in Fujino-cho (now Midori-ku, Sagamihara-shi), north of Tanzawa, and still resides there. Masters degree of Tokyo University of Agriculture and Technology, department of environmental protection. A free-lance photographer after working at Yuzu Editing Studio, photograph department. He has photographed the Tanzawa mountains, Northern Alps, and Mount Nyukasa, and other mountains around Japan. At the same time, he enjoys photographing mountain-life, such as charcoal making. His main writings include "YAMAKEI Alpen guide Tanzawa" (Yama-kei Publishers), "Charcoal Making Travelogue" (Soshinsha), and others.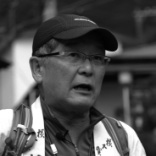 Shimura Isao(Guide)
Isehara tour guide. Born in 1955 in Isehara city. Engaged in sightseeing promotion business at Isehara municipal office until retirement. As a second career, became the Secretary General of Isehara Tourist Association from 2018. Carries out history guides mainly for group tourists around Daisen and Hyuga area.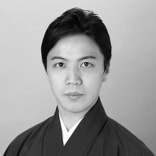 Hanayagi Genkuro(Japanese Classical Dance)
Born on 1981 in Nara. Graduated from Tokyo University of the Arts in 2003. Is known for his colorful and powerful performance style which fascinates people. Won the Incentive Award of the Minister of Education, Culture, Sports, Science and Technology in 2017. Received the new face award from Association of Dance Critics in 2013.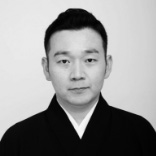 Kineya Katsujuro(Shamisen)
Born on 1978 in Chiba. Graduated from Tokyo University of the Arts. Has shiny sound and skillful technique. Plays in variety of performances such as Kabuki, Japanese classic dance, and other concerts. Has won awards in playing Tsugaru-shamisen as well.